MEHMET TUNALI'S JOURNEY began in the bustling and labyrinthine streets of Istanbul. After his birth in the Bosphorus neighborhood of Sarıyer, in 1955, he passed his childhood in and out of many old Istanbul neighborhoods where his curious nature found much to explore. Young Tunalı was busy and industrious from a very early age, selling water and lemons in the street until he was big enough to shine shoes and sell newspapers in addition to working in his father's restaurant. Mehmet took his job selling papers quite seriously and became fascinated by the world of the journalists, which would later provide a commercial outlet for his talent as an illustrator.
While still just a small boy not yet in school, Mehmet enjoyed putting pencil to paper in creative line drawings but was not self-aware of his gifted ability until his first year school teacher became highly impressed by his efforts in completing an assignment to make a drawing related to Mustafa Kemal Ataturk. Astonishing his teacher, little Mehmet rendered a complete story line on paper that caused her to give him much praise and encouragement. From that time onward, Mehmet Tunalı continued to draw and to explore the realm of composition. Tunalı's roots and beginnings as an artist lie in this innate ability to command and maintain an energetic and illustrative line that seems to be alive on paper.
As a result of his salesmanship, his curiosity and his natural inclination to be open and friendly, Tunalı was familiar with many characters of 1960's Istanbul, including one caricaturist named Faruk Bey, who plied his trade for small money on Istiklal Avenue; tirelessly setting up his easel and extra stool for customers everyday just across from the Ağa Mosque, at the corner of what is now a trendywatch shop. The aged Faruk took a liking to his eager and inquisitive young apprentice and taught the boy some of the secrets to being a good caricature artist. When Faruk Bey unexpectedly died, his twelve year-old student soon filled his vacated spot there on Istiklal. At two Deutsche Mark apiece, it quickly became evident to the entrepreneur in Mehmet that his work drawing caricatures on the street could earn him far more capital than his many other endeavors combined, and he began to focus his energies solely on drawing.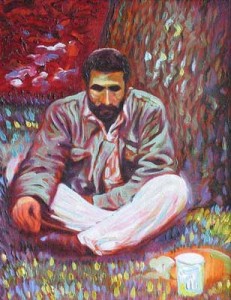 After a couple of years, Tunalı had saved enough of his earnings to fulfill his dream of traveling and his journey led him to Europe at age fourteen, where he first found work illustrating books in Germany. Over the next several years, throughout the 70's and early 80's, Tunalı traveled around Europe and back and forth from Turkey many times, nourishing his development through experience and exposure while funding the excursions with his earnings as a journeyman illustrator. It was during this period that Tunalı produced illustrations and comic strip work for many publications in Europe and Turkey including Oğuz Aral's GIRGIR magazine. Eventually, Tunalı settled in Amsterdam, the Netherlands, where he married and had a son, Tan; and, where his work continued to thrive. He achieved some acclaim and commercial success after the publication of AMSTERDAM UNDERWATER, a science fiction comic book thriller that takes place after a nuclear devastation.
Around this time, during the mid 80's, Tunalı gradually began to shift his interest and productivity to fine arts painting. Several events coincided to affect this evolution. The illustration industry's increasing domination by computer-generated graphics did not appeal to Tunalı and he could not compete with the growing cadre of software savvy graphic arts technicians. As this fact was becoming more evident to Mehmet, he had already begun his rebirth as a Dutch citizen. He obtained his legal status in the Netherlands and immediately commenced to shed the quiet and deferential demeanor that he had adapted in order to cope with the pressures of being undocumented. Providentially, at this point, Tunalı was introduced to the accomplished painter, poet, composer and filmmaker, Mustafa Şener, with whom he developed a fast friendship and mutual rapport. The revitalizing freedom and confidence he had recently acquired fueled Tunalı's energetic sessions with his new friend and mentor.
Under Şener's thoughtful tutelage, Tunalı made the excited leap into the realm of fine arts composition that allowed him to relinquish, at last, the business aspects of illustration; and, he endeavored to paint with oils in a way that he had not done before. The potentials within his new palette and the medium's ability to capture and distribute light captivated Mehmet. He exploded with motivation and productivity as he became more proficient in mixing colors and applying them to the canvas. He experimented with different genres and subjects; playing with light, depth and layering, and even mimicking styles to familiarize himself with the intricacies of fine arts as opposed to illustration. In those days, he was painting abstractions, architectural interpretations, landscapes, genre paintings and portraiture at a fever pitch.
Mehmet's conversion led him to new associations with other Amsterdam artists, and in the mid 90's he settled into a studio space within the old grain silo building, which sits along the water highway at the northern boundary of Amsterdam's inner city. The "Graansilo" had been abandoned and was occupied or "squatted" in 1989 by a group of artists determined to foster a space in which they could be creatively and freely, "Away from the gaze of the alter-ego of mass mores and taste; in a place of marvels that inspires and provides means for invention and actualizing dreams," as described by David Carr-Smith in his book, IMPROVISED ARCHITECTURE IN AMSTERDAM. Tunalı cultivated an enthusiastic involvement with the group of Silo Artists. His studio occupied a long and narrow attic space with soaring sky-lit ceilings and stimulating views of both the harbor and the central city.
It can easily be argued that this stage of his journey was Mehmet Tunalı's personal renaissance. He was profoundly inspired by the architecture of the old grain silo and made dozens of paintings depicting its interior and exterior, as well as the wide open vistas and ever changing light that he studied from its lofty rooftop. He had become confident with his oil paints and matured into a personal style that emerged from his impassioned, dynamic and exuberant spirit; but, which was tempered by his understanding of melancholy. Mehmet usually primed his canvases, and he used various application techniques and surreal color combinations to create balanced and expressive pieces that possess definite aesthetic value. He was prolific in these years and produced hundreds of paintings. In addition to the muse he found in the silo structure, Tunalı was also enchanted by Amsterdam's streets, houses, canals and bridges. He painted his adopted city with relish; he painted scenes from his and his friends' lives; he painted places he had visited on some of his world travels; and, increasingly, he painted Turkey. Mehmet never abandoned his gifted illustrator's expertise for capturing minute detail and he continued to paint exceptionally brilliant watercolors throughout his history. The extended separation from his native country and thorough immersion in
Dutch society began to wear thin on Tunalı. He longed to reacquaint himself with the vibrancy of Istanbul, to see places in Anatolia that he had not explored before and to introduce his son to the wonders of Turkey. He began to visit his homeland and progressively spent more time there. He especially took pleasure in passing the summer months among the small bays and quiet beaches between Fethiye and Antalya, on Turkey's Mediterranean coast, where he enjoyed to swim and hike, and to appreciate the nature around him with great zeal. His particular affinity for the Butterfly Valley, near Ölüdeniz and the beach of Olympos, south of Kemer, is obvious in the many splendid paintings that he made in interpretation of both places. Back in Amsterdam, he was beginning to show his work and had some moderately successful exhibitions; though, he felt that his ethnicity and his lack of formal training engendered a detrimental, albeit passive, prejudgment of his artistry.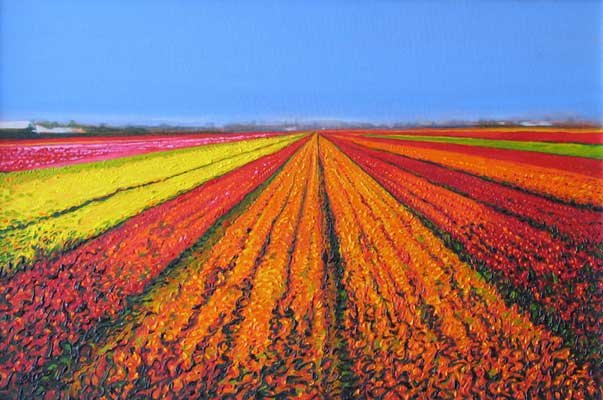 By the year 2000, Tunalı had decided that he would like to make a home of his own in Turkey, and he began, slowly slowly, to arrange his affairs in such a way that would allow him to do so. He had dreams and visions of finally giving serious attention to painting his beloved Istanbul and he had ideas and plans for other painting projects as well. Mehmet's journey had come full circle and his time was increasingly contented and untroubled. Delightfully, he had found love and was thinking to marry again.
In December of 2002, at the age of 47 and in seemingly excellent physical condition, Mehmet Tunalı was diagnosed with advanced cancer; less than fifteen months later he was gone from this world. The mettle and courage and positivity with which he endured throughout his illness was humbling and awe-inspiring to those who knew him. He had lived his life with an intense gusto and his only regret was having to let go of it. He left to his son a rich and dignified legacy – an impressive body of work for all of us to savor – traces of his precious essence in color, light and line.
That his work would be exhibited in Istanbul, "For all of the people to see," was Mehmet's last wish.